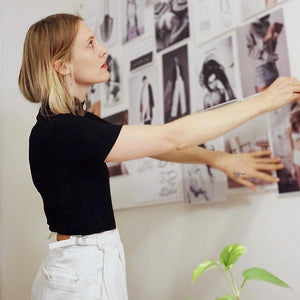 E I T H E R / O R is a collection of leather footwear ethically handmade with care.
The collection embodies a vintage nostalgia and a desire to live simply. The timeless craft of shoemaking was something we wanted to revive and revere, turning to Colombia, Portugal, and Peru for their incredible leather finishing and skilled handwork.
Designer, Paige, loves her shoes most when they are well-worn and hold memories of their travels. After working for years as a shoe designer in New York, she decided to leave the fast-fashion world to start a brand that focused on quality and sustainability at an inclusive price.

After dreaming and talking with her husband TC for years, they finally launched E / O from their apartment in Queens in 2020. With a background in sustainable building, TC is passionate about finding ways to reduce waste while creating products that last and break down naturally once their lifecycle is over. In the fall of 2020, they decided to return to their native Pacific Northwest.
Emily and Paige first met in Seattle in 2011, where they worked together as designers. Like Paige, a career in fast-fashion left Emily with a desire for something more. For Emily, doing work with purpose means putting people first, and ethics over ROI; she received her master in business in pursuit of this vision, which was followed by a career in consulting.
After the launch of E / O, Emily jumped at the chance to reunite with an old friend and bring their dreams into reality together. She partners with Paige and TC to help create the vision and strategy for the future of E / O.
E I T H E R / O R is just three people, working together to provide the best quality shoes directly to you. Selling direct-to-consumer gives us more freedom to run our business ethically. We employ a social cooperative to weave custom textiles, use the best quality vegetable-tanned leathers, pay beyond fair wages, and offset our shipping carbon footprint. We also use post-consumer, plastic-free packaging.
Selling direct also means you save the traditional retail markup!
_
E I T H E R / O R is committed to sustainable sourcing, ethical manufacturing, and being a force for good in a changing world. Looking towards a brighter future, we are committed to staying true to ourselves and true to the ethical brand we are creating. Stay tuned!