leather Care & Repair tips
what is sustainably sourced leather?
Leather requires a lot of chemicals to produce. Chrome-free and vegetable-tanned leathers are a sustainable alternative. They have increased breathability compared to synthetic alternatives, which maximizes comfort. Plus, they develop a rich character and patina over time.
Great shoes are like perfectly broken-in jeans. They should only get better with wear, and EITHER/OR shoes are designed to do just that. Here are our tips for keeping your shoes maintained and protected so that they can age beautifully, the way they are meant to.
developing patina
Our leathers are designed to age beautifully.
Vegetable-tanning is a natural, non-toxic process of preserving leather hides. It uses tannins instead of toxic chemicals as the curing agent; tannins occur naturally in the bark and leaves of plants.
Vegetable-tanned leathers are 100% biodegradable, and are more durable than most generic leathers. They have increased breathability compared to synthetic alternatives, which maximizes comfort while minimizing odor, and develop a beautiful character and rich patina over time.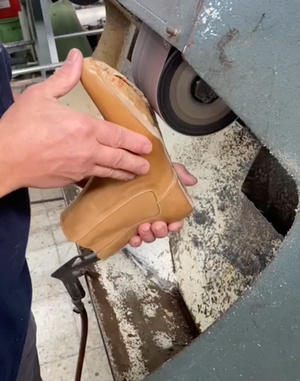 BREAKING IN
Tips for breaking in your newest pair.
A new pair may feel slightly snug at first - this is by design.
To quicken the break-in period, spritz the upper with a spray bottle of distilled water to (barely) dampen the leather - then take a walk around your home. It may take a few spritz sessions and short walks before the leather softens completely and molds to your foot, but we promise - this custom fit is worth the wait!
scuffing the soles
Take the slip out of your step.
Leather outsoles may feel slippery at first, but as they are worn they soften and mold to custom-fit your foot shape. This characteristic is not possible with other outsole materials like rubber or synthetics.
We recommend doing a little "sidewalk shuffle" during your first few wears outside. Do a little dance in the driveway and build some scratches for traction.
care + maintenance
For shoes that last years, not seasons.
To remove odor or moisture // Place shoes in a bag of baking soda overnight. The next day, wipe baking soda off with a soft, dry cloth.
To remove dirt and stains // Brush off any dirt or dust with a soft, dry cloth. Use saddle soap to spot-clean any stubborn stains. Wipe away excess soap residue with a dry cloth before applying a leather conditioning oil to moisturize the leather.
To protect // Condition your shoes with leather conditioning oil every 3-6 months, or any time the leather looks a little dry or tired. This will help protect them from staining and to provide moisture resistance.
For big repairs // Contact us for advice, or see your local shoe repair. Our leather soles are built to be replacable and repairable, an affordable alternative to purchasing a new pair.