A Woven Story [Medellin, 2023]
a woven story
On our recent sourcing trip to Colombia and Peru, we checked in with the small artisan collective in Medellín, Colombia that is responsible for weaving our The Woven Slide and The Buckle Slide.
Both are deceptively simple silhouettes that involve incredible attention to detail and expertise to produce. They are the definition of slow fashion and represent a level of craftsmanship absent in most modern footwear. For example: The Woven Slide takes 24 hours to make a single pair from start to finish!
The process
Creating The Woven Slide started with a weeks-long patterning process with our master pattern maker, Carlos Mario. Trained in Italy, Carlos Mario has an eye for detail and understands the sleek lines that are characteristic of luxury leather footwear.
After perfecting the pattern, Carlos Mario created custom weaving looms for the artisans to use in creating the final product. The looms ensure a perfect fit and consistency across production.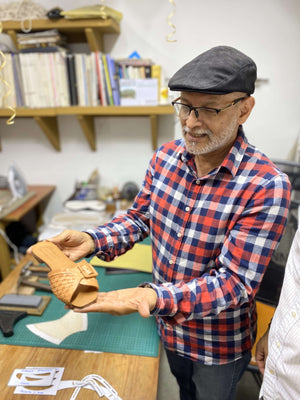 Our Spring '23 Buckle Slide and Woven Slide collection was produced by five artisans (four weavers and one sewer) that are experts in leather-craft and traditional weaving methods. It's a specialized and rare skillset - when not working on our sandals, they may be producing traditional Colombian handicrafts or leathercrafts like saddlery.
We're so thankful to partner with artisans of exceptional skill and artistry.
Learn morE