Our suppliers
100% of the leather used in production in Portugal comes from Il Ponte Tannery in Tuscany, Italy. This female-and-family-owned tannery has been using 100% vegetable tannins in their tanning process since 1961, and have gold auditing certificates for compliance and environmental standards from Leather Working Group. They also belong to the Consorzio Vera Pelle Italiana Conciata al Vegetale, an elite group of only 22 tanneries which represent excellence, quality and dedication to traditional craftsmanship in leather tanning.
OUR FACTORY
We partner with a single factory in the historic footwear region of northern Portugal. Our partners are chosen carefully to ensure they pay living wages and provide safe and stable working conditions. In our Portugal factory, employees earn at least the European Union-mandated minimum wage, with wage increases based on experience. The lowest wage paid is 775 Euros per month (approximately $900 USD) which is 20% above the average family living wage for the region based on 2019 data from wageindicator.org.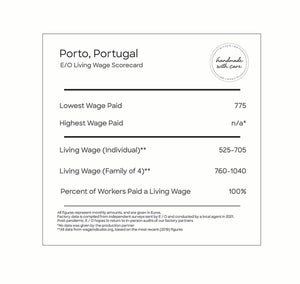 Working conditions
Our Portuguese factory has been in the family for generations, making footwear since 1958. Their most recent audit from SMETA (Sedex Members Ethical Trade Audit Report) indicated positive working conditions as reported to the auditing agency through independent, confidential interviews with the factory workers.
Our packaging
We use 100% post-consumer tissue and compostable cardboard for our production in Portugal, and ship using plastic-free packaging. We purchase carbon offsets for our shipping from Native Energy.