Our suppliers
100% of our insole and outsole leather and 75% of our upper leather used in Peru is vegetable-tanned. This process uses tree bark instead of chromium and other harsh chemicals. Leather that is vegetable-tanned is more durable and reparable than synthetic alternatives, and is also biodegradable at the end of it's useful life.

The balance leather used is sourced from a local Colombian tannery which produces leather using an innovative "wet-white" tanning process. Like vegetable-tanning, wet-white tanning is chrome-free. It also uses 40% less water than conventional tanning and reduces the amount of toxins and minerals in wastewater by up to 80%, meaning wastewater can easily be recycled and reused in the production process.

Wet-white tanning is the first step towards a more sustainable future for traditional tanneries. They can use their existing equipment to produce with minimal additional financial investment.

OUR FACTORY
We work with a family-owned, female-operated factory in Lima, run by third generation Italian-Peruvian shoemakers. We turned to Peru for their polished craftmanship and artisan sensibility. Employees earn 1.6X - 3.6X the minimum wage.
The lowest paid employee makes 1,250 soles per month (approx. $325 USD) which is 7% above the average family living wage for the region based on 2019 data from wageindicator.org.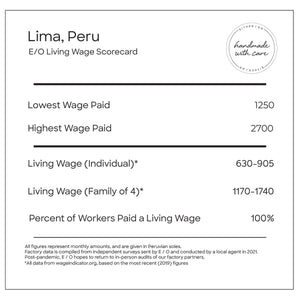 Our packaging
We use 100% post-consumer cardboard and ship using plastic-free packaging. We purchase carbon offsets for our shipping from Native Energy.